At Cloverdale Dental Group, the technology we use helps us provide patients with efficient dental care including same-day restorations, digital x-rays and intraoral scanners.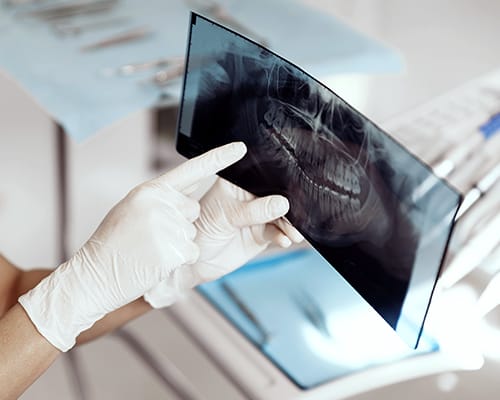 Technologies at Our Dental Clinic
At Cloverdale Dental Group, the technology we use helps us make decisions about treatment planning and make your dental appointments run smoothly. We can display digital x-rays on the monitors in our treatment rooms, which means we can show you any issues in your mouth and explain your treatment plan. 
We strive to provide our patients with efficient dental care and ensure they are fully informed about their oral health. We achieve this goal with dental technology.
CEREC Same-Day Restorations
With CEREC® (Chairside Economical Restoration of Esthetic Ceramics), our dentists can fabricate and place dental crowns, inlays and onlays in a single appointment. This system means more efficiency, few injections, less drilling and less mess spent making temporaries and impressions than with traditional methods.
iTero Intraoral Scanner
The iTero® intraoral scanner takes highly accurate, 3D impressions of your bite - an ideal alternative to traditional dental impressions which can be time-consuming and messy. It allows us to plan your dental treatment in real-time, store data digitally, and create digital replicas of the hard and soft tissues of your mouth to produce Invisalign clear aligners.
Digital X-Rays
Instead of traditional photographic film, digital x-rays use digital sensors to produce detailed computer images of your teeth and gums, in addition to other oral structures and conditions. This allows your dentist to see parts of the mouth that are not visible to the naked eye.
Panoramic X-Rays
With panoramic x-rays, your dentist can create a single flat image of your entire mouth. This image represents the teeth, upper and lower jaws, temporomandibular joints (TMJ),  and sinus and nasal structures. These types of x-rays are typically used to help plan treatments for extractions, braces, implants and dentures.
Primescan Intraoral Camera
An intraoral camera is a small device that connects to a computer in an exam room. By waving the handheld device through a patient's mouth, full-colour images of their entire mouth and teeth are visible at a magnification of 30 times their actual size. When connected to a large monitor, both the dentist and the patient are able to see any potential issues during an examination.
Using our Primescan® intraoral camera provides far more detailed information about a patient's dental health than a traditional exam. Magnified views of the teeth, gums, and oral structures help our dentists more clearly see any early warning signs of gum disease and oral cancer. It also helps patients to better understand their own dental health and their dentist's recommendations.